WHAT IS 'VIRTUAL' CAMP CALVIN?
Virtual Camp Calvin was created out of necessity due to the Covid-19 pandemic. Having had to learn the technology and with two successful virtual summer camps and three winter camps, we see that it is possible to continue with virtual Camp Calvin using the Zoom platform.
The virtual aspect of Camp Calvin will consist of fiddle & piano classes, as well as jam sessions led by our very talented camp instructors. We offer two low-cost registration options 'Registration only' or 'All Inclusive' which includes all the support material. 
Support material will be emailed (to the 'All Inclusive') or available for purchase separately (for those that are 'Registration only'), one week prior to the start of camp.  Support material includes Sheet Music/TAB, MP3's, Backing Tracks, Jam Session Chord Charts.
All virtual classes will be recorded for your review long after the camp is over, so it's 'the gift that keeps on giving'. A bonus to Camp Calvin! We can offer Gift Certificates so a camp registration would make a great gift for the musician in your life!
NB. Class videos will be made available in a few days following camp.
WHAT WILL A VIRTUAL CAMP WEEK LOOK LIKE? 
Classes will start at 9:00 am MST daily with Piano & Fiddle classes, with an Instructor-led Jam Session mixed in. Classes are 1 hr and the schedule allows for short breaks. Below is the 2023 schedule of camp week.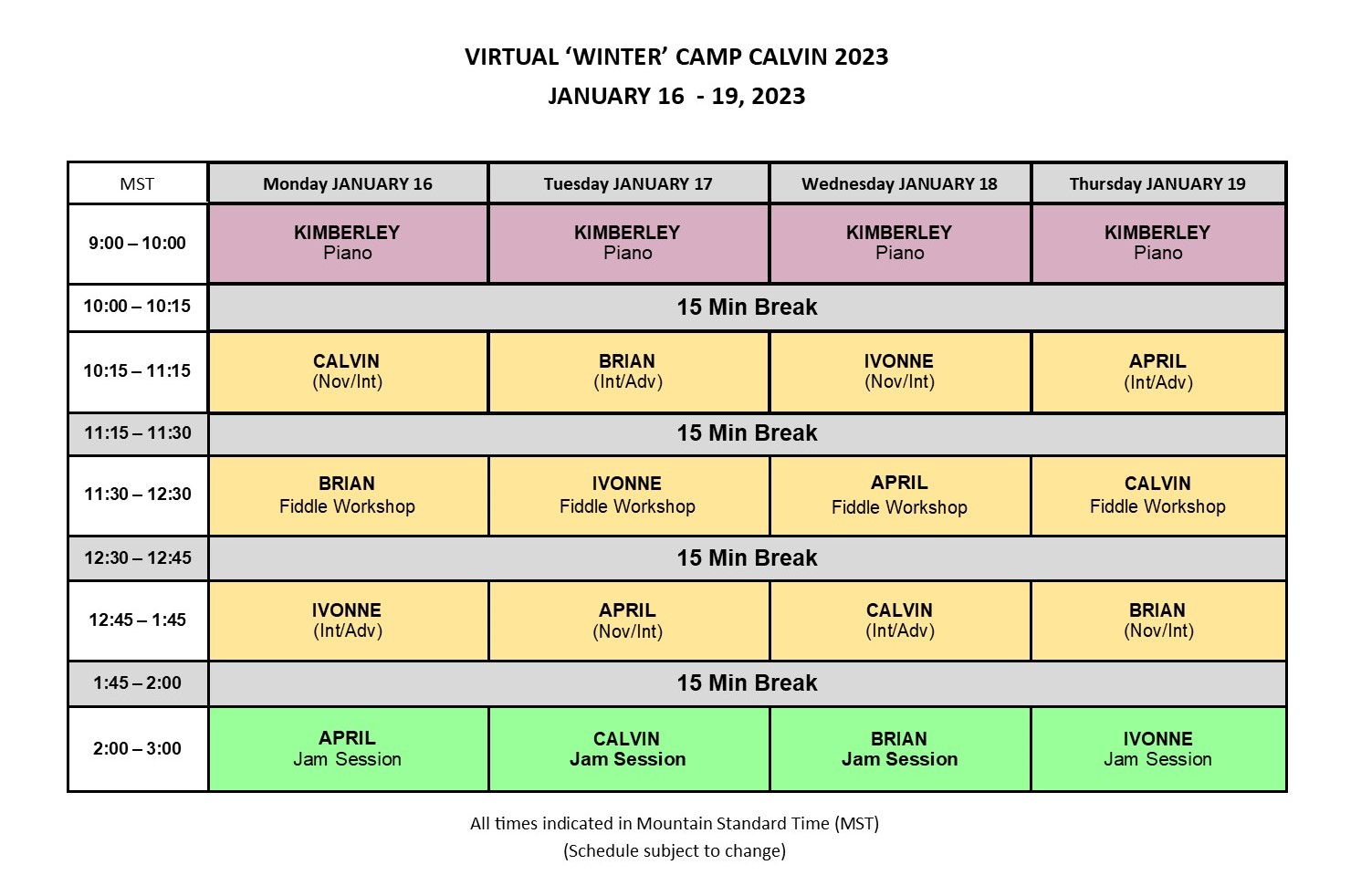 WHAT ARE THE ATTENDANCE REQUIREMENTS?
Everyone should have a basic knowledge of their instrument. Students will have the option to participate in any or all of the classes. Your registration fee will give you access to all classes (Fiddle, Piano, Jam) that will be taught at camp - sit in on as many or as little as you like. The only thing that will be required to attend, other than your instrument, will be a decent internet connection and a device (smart phone, tablet, laptop or computer) and optional headphones.
While we will assist you as much as we can with the technical aspect of Zoom, we do ask that you are comfortable using your device and have a basic knowledge of manipulating emails, documents, passwords, etc.  We also require you to thoroughly read the documentation that will be sent to you as all the information you require will be clearly stated therein.
WHAT WILL I LEARN WHILE AT CAMP?
Fiddle group classes will learn new tunes, fiddle workshops will cover technical aspects from bowing tips, vibrato, backup fiddle, etc,. Piano students will learn various chord structures, and lots of tips & tricks from a very knowledgeable accompanist.
Because most students ask/require sheet music, we cannot supply sheet music from other artists therefore we are limited to Calvin Vollrath compositions. But don't worry, Calvin has an extensive library of original compositions and there is something fun for everyone. There will be a cross section of tunes, for the Nov/Int to the Int/Adv player.
HOW MUCH DOES IT COST? (2023 Fees - Subject to change in 2024)
$100 ~ Registration Fee (Instruction Only). Support material will be available for purchase separately for an extra fee.
$140 ~ All Inclusive (Instruction + all the support material (Sheet music/tab, MP3's, Backing Tracks, Jam Session Chord Charts - a value of $88.45)
GST will be added to these prices. Payment confirms your participation.
CANCELLATION POLICY
Cancellations made before Dec 31, 2023 will be reimbursed less a $15 administration fee.
Cancellations after January 1, 2024 will forfeit the registration fee.
PAYMENT OPTIONS
We accept E-transfers (Cdn students only), Cheques (mailed prior to 30 days) or Credit Cards (processed by Square - US/Int students must use this option if not mailing a cheque). Payment details will be sent with your Confirmation Email once you're registered.
UPCOMING CAMP DATES:
2024:
January 15 - 18, 2024 (Virtual)
2025:
January 20 - 23, 2025 (Virtual)
2026:
January 19 - 22, 2026 (Virtual)
REGISTRATION FOR JAN 2024 WINTER CAMP WILL OPEN NOVEMBER 1, 2023